iLIVING ILG8E18-15 Wall Mount Outdoor Fan
3 sizes : 14″, 18″, 20″
Maximum Speed : 4000 CFM
Power : 168 Watts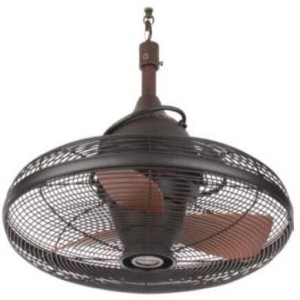 Allen & Roth Valdosta Outdoor Ceiling Fan
1 size : 20″
Maximum Speed : 3030 CFM
Power : 85 Watts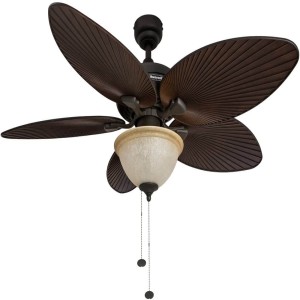 Honeywell Palm Island Tropical Ceiling Fan
1 size : 52″
Maximum Speed : 3500 CFM
Power : 68 Watts
Outdoor gazebo fans are great, especially in extreme summers when the heat can get to a dangerous level, and sitting out would not be recommended. Despite the heat, who doesn't like to sit out on the patio or gazebo and read their favorite book in the summertime? A backyard gazebo fan will keep you cool and fresh in the scorching heat while you enjoy your reading session or any outdoor activity.
They are an excellent addition to your gazebo or any outdoor space as they enhance the lighting and keep the mosquitoes at bay while you sit out. They are affordable and function effectively in every weather condition. If you are someone who enjoys the outdoors even in summers then you will love these fans. It is very essential to choose the best outdoor pergola ceiling fan to make your experience flawless and delightful. Here are the top 5 outdoor gazebo fans available in the market.
Top 5 Best Gazebo and Pergola Fans + Hanging Fans
iLIVING ILG8E18-15 Wall Mount Outdoor Fan
This wall mount fan is one of the best options that you should opt for. It is manufactured by iLiving with 18 inches curved fan blades that allow maximum airflow for an excellent user experience. There are three different speed options available and the speed can be adjusted with a pull chain control. 
You can turn this portable gazebo fan into a misting fan by just purchasing Iliving misting kit, isn't that incredible? It is permanently lubricated, sealed, and factory balanced. It has powder-coated aluminum which gives a perfect corrosion-resistant finish and the grill is also OSHA approved. The wall-mount bracket can be adjusted according to your needs.
Allen & Roth Valdosta Outdoor Ceiling Fan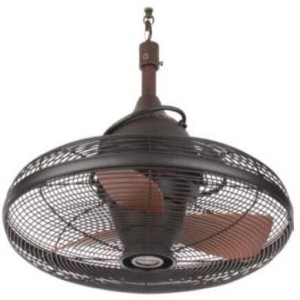 This gazebo fan with hook has an oil-rubbed bronze finish and 20 inches fan blades. The fan height is extremely handy, from sealing to the blade 14.17 inches, and from ceiling to housing 15.6 inches. There is a 3-position knob and 4 interest downrod included in the package. 
This outdoor wet style gazebo fan has a three-speed AC motor 153 x 15. To increase the air movement, there is a 24-degree blade with a pitch that turns 3030CFM's at high speed.
Honeywell Palm Island 52-Inch Tropical Ceiling Fan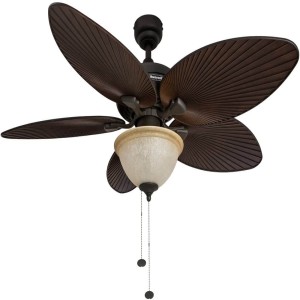 It has a tropical style with 52 inches, bronze palm leaf blades. Other than being compatible with the universal remotes, there is also traditional pole change included in the package to make the 'on and off' adjustments easily manageable. 
It has a 4-speed reversible motor that can also be beneficial in the winters as it can run in reverse to assist in the rotation of warm air in the room. If you have large patios or porches, this outdoor pergola fan will be a perfect choice.
Air King 9020 1/6 HP Industrial Grade Wall Mount Fan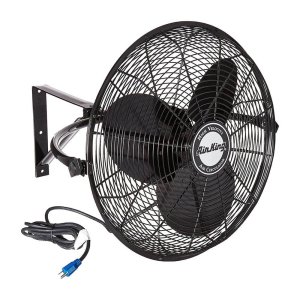 It is 16.5 inches in length and 29.5 inches in height. The finish is painted with 20 inches powder-coated metal blades. This wall mount gazebo fan has a 3-speed,1/6 HP + 120V, 1 phase motor with a completely enclosed ball bearing.
It is tested in accordance with AMCA standards and comes with the rear-mounted pull cord switch. The package also includes a 9 foot, 3-conductor SJT type power cord.
Hampton Bay Gazebo Ceiling Fan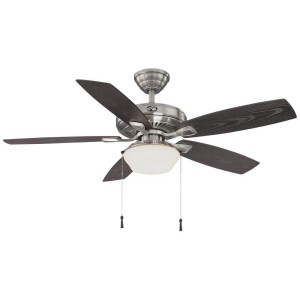 This gazebo fan has weather-resistant plastic blades with rubber coverings. The finished type is bronze and it weighs 24.1 pounds. The voltage of this fan is 120 volts and the wattage is 26 watts. 
This gazebo fan with light stands out for many reasons including its handy dimensions of 26.46×10.43×14.76 and great quality. Thats why it is highly recommended by the users.
How to Install an Outdoor Ceiling Fan on a Gazebo or Pergola?
Pergolas or gazebos are very useful in keeping the heat away during summers but sometimes they aren't enough. The extremity of the weather can be tackled by the installation of an outdoor gazebo fan. The gazebo fans with hook do not require proper installation, they just need to be hanged. And hanging a gazebo fan with hook is not a difficult task at all. However, other fans require proper installation. Some people may think that the installation of an outdoor gazebo fan would be difficult but it's not true. You just have to follow up on the procedure and not miss any steps to get it going properly.
1. Take the Essential Measurements and Cut Through the Rough Measurements
It is crucial to take all the necessary measurements of gazebo / pergola before jumping into the procedure of installation. You should have a clear idea of the measurements below the gazebo evenly. The measurement should be centered properly so the symmetry would be a defining factor. Locate the center of the pergola ceiling or gazebo, and mark it as the spot where you will put the base of the fan. Use a proper measuring tape to find the center. Remember to transfer the measurements to the PVC conduit, it's not necessary but preferable because you don't want to ruin the look of your gazebo or pergola. Using a hacksaw and marker, cut through the rough measurements.
2. Cover the fan for hydro-isolation
It is very important to cover the fan with something to protect it from the elements such as rain and water damage. Since it is located outdoors, the electrical equipment should be properly. Using plastic might be highly recommended because it is an impeccable option for hydro-isolation and can easily be found in the market. Make sure you buy something that will last for a long time especially the heavy rain seasons because if your pergola fan is and wires are covered properly, there won't be any damage to the electrical components.
3. Arrange the Wires
Wires are important. You need to have wires in order to transfer power in any electrical equipment so before you connect the wiring, organize them properly! Tighten the conduit that has the wires, you can use some wire ties to do this task. The thumb rule is that it should fit below the pergola or gazebo and you can also use some glue while attaching the back end of the pipe into the box of the junction. At this point, you will get a clear idea of how much why do you require to reach the ceiling fan. After cutting off the excess wire, start threading them and carefully glue them together. Make sure you double-check that the wires don't dismantle.
4. Connect the Wires
Once you are done with arranging the wires, you can start connecting them to the fan equipment. It is highly advisable to trim the wires properly and then strip them. Remember, the black and blue wires attached to the black wire. In case your fan has a light connected to it, you should attach the black and blue wires to the blue wire. You should match the rest of the colors with each other and place the wires inside the electrical box to proceed with the final step of securing the whole fan.
5. Secure the Mounting Brackets
The last and most critical step of this DIY project is securing the mounting brackets. It is very important that your ceiling fan gets fully fastened to the gazebo. Append the electrical box and secure it with mounting brackets. You should get some solid bolts that would be compatible with rusty circumstances and a good lock that would keep them together for a long time. After this step, you can mount the gazebo ceiling fan on the box and that marks the completion of your project.
Read More: How to hang a ceiling fan box in gazebo with no parallel joists?
Should Your Gazebo or Pergola Have a Ceiling Fan?
Gazebos provide a fresh look to your yards and by simply adding a ceiling fan to it, you can make this place much more relaxing and inviting for everyone. It improves the air movement in your room. By turning on the pergola fan, you can draw more air into the room which is highly beneficial for your health and overall wellness. If you have some good plantations in your backyard, turning on the pergola fan will provide a sweet smell to the room and it can also help in circumventing bad orders including pollution.
Secondly, the summertime can be very extreme on some people and a gazebo ceiling fan will help you combat the sweltering heat effectively. It is also propitious in the winter season. You just have to reverse the direction of the ceiling fan and the room will be sprayed with warm air. It provides you with temperature control on your gazebo. Moreover, if your ceiling fan has a light connected to it then this can provide very beautiful lighting to your gazebo. Its dual benefit, you will have ventilation with good lighting. That's just the perfect combination for your gazebo. It is recommended to choose the pergola ceiling fan with the lighting that suits the mood of your visible or the mood that you want to set in your space.
Thirdly, they are extremely useful to keep the bugs away in summers. Mosquitoes can be a big problem in the summer time, especially when your are chilling in the gazebo. There might be insects and bugs flying around which makes it difficult to enjoy the outdoors so the gazebo ceiling fan will keep them at bay. I think these three reason are enough why you need a gazebo fan.
Things to Consider When Buying a Gazebo Fan
Many significant factors need to be considered while selecting a gazebo fan for your home.
1. Size of Fan:
The size of your space is one of the most significant factors that need to be considered when buying a ceiling fan for your gazebo. If you have a larger space, you will need a relatively bigger ceiling fan to make sure that ample air is circulated in the entire area. Moreover, the size of the space will also determine the power of your ceiling fan. If your gazebo does not have any surrounding protection, you might need a high-powered fan to improve the airflow of the space.
2. Quality of Fan:
The quality of the fan should also be analyzed. As there are many varieties of ceiling fans available in the market, all of them work differently outdoors. The fan must be compatible with the size of the space in order to cool the area properly. Sometimes largest fans are not a good choice for creating a strong breeze in the room but they can be very beneficial for the mixing of air. If you have a rectangular area, you might consider having two fans. Closely notice the wind speed of your fan before buying it. 
Moreover, you should also look for the best material that will be suitable for the outdoors. Stainless steel gazebo fan is the best choice. However, you can still look for affordable options such as aluminum, fiberglass, or plastic. The material should be equipped to combat corrosion and warping in the outdoors. In addition to this, try to select a gazebo fan with light, so you can relax in your backyard even at night. 
3. Color and Pattern:
The selection of your ceiling fan should also match the decor of your home. It is not advised to buy a ceiling fan that does not go with the style of your home because it will look awkward and you don't want that. Therefore, while choosing the ceiling fan, you must find something that is both elegant and cohesive. Consider the color scheme of your gazebo and match the pattern with your ceiling fan. Also, there is a selection between the curved or traditional design of the blades. You should select the number and shape of blades in accordance with the theme of your decor. Any mismatch would make the pergola fan look odd.
Frequently Asked Questions
1. Are all ceiling fans appropriate for outdoor weather?
Not all the ceiling fans are compatible with the outdoors but a wet, outdoor pergola fan will work fine in the outdoor locations. As the wet outdoor ceiling fans are manufactured to resist all the external conditions, they are appropriate for all weather. All of the above mentioned fans are great for outdoor use. 
2. Does gazebo fan comes with light?
It depends on your choice. Some ceiling fans come with light. If you want to enhance lighting, you should buy the one with attached lights.
3. Is the gazebo fan with hook easy to hang?
If you follow the instructions provided above, it should not be difficult to hang it. However, if you do not have installed a fan before, we recommend you to take help from professional.
4. Can you put a ceiling fan in a gazebo?
Outdoor ceiling fans can be installed in the gazebo or verandas but make sure, you buy a wet-rated fan and it should be properly wired to a weather-proof junction. The canopy should be protected against rain and other weather extremities.
5. Can you put a fan on a pergola?
Yes, you can put a fan on pergola.
6. Can you plug a gazebo fan into an extension cord?
Absolutely, you can plug any ceiling fan into an extension cord but make sure, the amperage of the fan does not extend the extension cord amp rating.