You're expecting your first baby! Congratulations, you are about to embark on a journey of discovery. But while there is much joy in the anticipation, it can also be very stressful. There are so many decisions to make and things to buy. You want everything perfect for your little one's arrival but don't know where to start. Your nursery ceiling fan is one of those decisions that will have an impact on how comfortable your baby will feel when they sleep at night. The best nursery ceiling fans offer both safety and comfort with their designs that not only look great but are functional too! We hope this blog post helps you find the right fan for your needs!
Baby's comfort is the most important consideration. As parents, it is our responsibility to make sure our baby is safe and healthy. A baby's room should be a haven of warmth and comfort. While this space is mainly for sleeping, what you do in their room can affect how well they sleep too! Be aware of the temperature in your baby's room, especially while they are sleeping.
Babies can regulate their body temperature better than adults or older children, but all that changes when they sleep. They cannot adjust for heat loss due to evaporation cooling during the night. Babies cool themselves by moving between being very active and then quieting down, spreading their arms and legs. This helps release heat into the air.
The baby's room should be no cooler than 16°C (60°F) and no warmer than 20°C (68°F). The bedroom fan helps to regulate the temperature which in turn, regulates your baby's sleep schedule too!
1. Hunter 52298 Discovery Ceiling Fan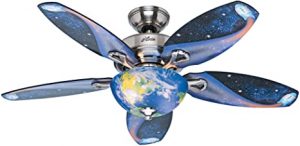 With a playful, outer space design that is perfect for any kid's bedroom or nursery. Its sleek design will look great in any kid's room or playroom! The globe on the bowl provides for added intrigue, while also housing a WhisperWind motor to provide powerful air movement without making too much noise like other typical fans do when they're used at high speeds. Installer's Choice three position mounting system allows you easy access options; whether it be low (standard) hanging down below head height, angle upwards towards your face if needed OR mounted horizontally against another wall either side of the headboard.
2. Hunter Company 59260 Ceiling Fan for Nursery
Step up your interior decor with the contemporary Cranbook. This Low-Profile ceiling fan is a sleek and fashionable addition to your child's nursery. Pairing well with almost any themed room – it features four blades, a reversible airflow direction and three speeds to ensure optimal comfort year-round. The LED light kit gives you total control over how much or little lighting there is depending on what suits best from somewhere between moods 1-10 (10 being brightest). The included hand-held remote control makes for easy operation from anywhere across the room.
Control the ceiling fan's speed for a perfect balance of energy efficiency and power output when you need airflow quick at your fingertips! Hunter fans are completely reversible, meaning summer cooling without the hassle is just a flip away with downdraft or during winter warm air in updraft mode! And don't forget that these babies come with a multi-speed whisper wind motor so not only are they safe for kids, but they won't interrupt your precious little one's slumber either!
The Hunter Designer Series 59260 is an ultra-low-profile ceiling fan for smaller rooms such as nurseries. It offers retro styling in a selection of finishes and has a very low-profile design.
3. Westinghouse Lighting 7223600 Ceiling Fan with Light
Roundabout ceiling fans have a way of looking, well…round. The Westinghouse 30-inch Roundabout Ceiling Fan with Light is no exception to this rule. Filled with effortless style and finish, your modern home will remain cool in the heat thanks to not only the expansive blade span but also thanks to an integrated LED light that illuminates when needed. Saving energy was always in mind during development and know you'll save on costs too! With five reversible blades boasting a variety of colors, you can decorate any room for almost anyone's taste- from little kids to big kids. For athletic spaces without air conditioning or large rooms where airflow is necessary, this designer fan will take care of both needs brilliantly.
Featuring five reversible blade colors, this contemporary designed promotional piece is sure to please both kids and families alike. With an integrated dimming LED light that offers energy efficient design and requires no bulb changes, alongside its sleek brushed nickel finish and unique 18-degree blade pitch, your air circulation needs will be met in style.
Task-specific light dimming makes this traditional product feel modern, eliminating the need for bulb replacement with its energy efficient integrated LED light source. This versatile fan will blend in gracefully with your space no matter what the décor!
4. Craftmade Kids Ceiling Fan with Light
It's a warplane, it's a ceiling fan…no, it's Craftmade Kids Ceiling Fan Boys WB348TS Tiger Shark Warplane! Built with a custom made cased white glass integrated light kit that includes one B10 60-watt candelabra frosted bulb that exudes 615 lumens and engineered with a silicon steel body this kids ceiling fan was built with its unique airplane design including three ply light propellers blades followed by the custom integrated matte white glass light kit. You can create some family fun while you control this flush mount hugger ceiling warplane – just watch your hands around those propellers!
Best of all, the ceiling fan includes two levels of lighting enabling it to create nearly any mood you desire including intense brightness for studying but also softer lighting perfect for reading bedtime stories. The included pull chain provides three speeds which cover most needs (including winding activities like cooking or cleaning) while providing an additional pull chain for simple on/off manipulation! This 48″ ceiling fan is available in kids-sized measurements, allowing you to fit it seamlessly into any room's decor–adding novelty without compromise.
5. Hunter Valda Ceiling Fan for Nursery
Get a room with a lot of personality! This Hunter Valda indoor transitional ceiling fan features three finishes that will add flair to any space. The plastic blades and light cover make this ceiling fan ideal for rooms you don't want to worry about getting too dirty, like kid's bedrooms or game rooms. Add some fun LED lights into your life with the adjustable mount; there are three positions that allow the fan to be mounted at varying angles. The blade pitch is 13 degrees–damn near close enough to hug!
A convenient remote control with up, down, and off controls make adjusting from across the room easy. This durable fan has high quality blades that are made from plastic material so kids can enjoy without worrying about injuries! Available in cherry, earthtone green/browns, hunter brown black/varnished steel finish options give this fan lot of personality!
6. AireRyder FN44322W Ceiling fan
Well-crafted with clean lines and fitted with a light kit for ambient lighting, this fan will add an elegant touch to your home. Producing up to 3800 CFM with it's 5 blades, there is no design obstacle that can't be conquered with the AireRyder Ceiling Fan. It is easy to install and offered at an affordable price.
The LED lights are durable and have 15-year lifetime plus energy efficient technology that stretches the life span of your investment to support your lifestyle! With whisper quiet operation up to 54 dB – instant lowering to 30% power at the touch of a button without any change in air output or oscillation behavior which also has 3 independent speeds with reversible feature – you'll never know it's there until you need it. It includes an adjustable height downrod for convenient installation. For a casual and economical approach to decorating, the FN44322W is an ideal choice.
7. Craftmade K10368 Bloom 52″ Ceiling Fan
The Bloom 52″ Ceiling Fan features a design that will beautify any ceiling you put it in. Fluffy petals, flowers, and fruit hang from its blades as they're spun for a breezy island ambience. Fade to Black Flower Polyester Blades offer a tropical look with enough momentum to move an entire home without generating too much noise or wearing out the motor quickly. With whimsical, leaf, flower and fruit-shaped blades that will twirl when in use, this fan lights up any room with its warm energy.
The fan includes blade guards and is UL-cETL safety rated which ensures compliance with standards in North America and abroad, has 3 speeds – high speed for quick cooling off on muggy summer evenings or heating up on frigid winter ones – low speed for quieter operation when kids are sleeping.
It features a three-speed reversible motor so it can be your kid's best friend in the winter or summer heatwaves. Two 60-watt candelabra bulbs are included for a lighting show of different intensities; one bulb provides more illumination while both provide interesting effects of diffusion through the diffuser tips on each blade. The white finish means it'll match most color schemes or styles you wish for your baby's room décor–either traditional or contemporary.
Should You Put a Ceiling Fan in the Nursery?
We all know that babies are more comfortable when they sleep in a cooler environment. And, if you live in an area with warm weather year-round, it can be challenging to keep your baby cool during the summer months. But what about the winter? For many parents of young children, putting up a ceiling fan is not something they've considered — but according to experts at Consumer Reports, it's worth considering.
When you're deciding whether or not to put up a new ceiling fan for your nursery think about how much space there is and where the windows are located. If you have multiple windows or doors that lead outside then installing one of these fans may help create better air flow into the room and make things feel cooler on hot days.
Studies show that the temperature of a baby's room should be between 68-72 degrees Fahrenheit. It can get quite hot in some rooms, especially nurseries. Ceiling fans are an easy way to keep your nursery at the optimum temperature for your little one. They will not only create a more comfortable environment for baby, but it will also help circulate the air and remove some of those pesky germs that may be floating around! With so many great benefits, we recommend adding one today.
What Are there Benefits of Having a Ceiling Fan in Nursery?
Fans are not just for cooling down when the temperature is hot! Ceiling fans can be a great way to keep your nursery cool in the summer. They circulate air and help keep it cool, saving you money on having to run the AC all day long. Plus, they also have health benefits- circulating air helps prevent infants from getting stuck in moist pockets of air that could lead to Sudden Infant Death Syndrome (SIDS). So if you're looking for ways to save energy this summer or want a safer place for your baby during nap time, get yourself a ceiling fan!
Can a Fan in a Baby's Room Lower SIDS Risk?
Parents who are worried about SIDS (Sudden Infant Death Syndrome) may want to consider using a fan in their baby's room. The American Academy of Pediatrics (AAP) is now recommending that all babies sleep in a cool environment with no blankets, bumpers or stuffed animals. A fan can help lower the risk of SIDS because it helps regulate your baby's body temperature and keeps him comfortable while he sleeps. Read on for some important safety guidelines when using a fan with your infant.
The American Academy of Pediatrics has recently released new recommendations regarding how parents should keep their infants safe from SIDS while they sleep. New research shows that having a fan in the room can lower the risk of this happening, so parents might want to consider purchasing a fan for their infants. When an infant is sleeping in his or her crib, parents should place the fan above the crib and on low. This will help regulate the temperature of the room, which can prevent SIDS in some cases, particularly when it's typically hot inside babies' rooms.
Are Baby Room Ceiling Fans Safe for Babies?
The question is raised, are baby room ceiling fans safe for babies? Many parents may not think about this but it's a valid concern. Ceiling fans can be used to provide a high level of comfort for children that have trouble sleeping due to the heat or other factors. However, there is always a risk involved with anything electrical and young children present an increased danger because they do not understand the dangers associated with electricity. Parents should consider many aspects before installing ceiling fans in their child's bedroom including age, height off ground, location of fan from bed and any other safety precautions necessary.
In order to make sure your child stays as safe as possible when using a ceiling fan in his/her bedroom here are some tips:
1) Make sure the room has an electrical outlet that is grounded near to where you want to mount the fan. If not, you might need an electrician's help in order to get proper grounding for the safety of your child.
2) Mount your new ceiling fan at least seven feet from the floor so little fingers cannot touch blades while standing on furniture or another object. Also, make sure there are no rocks, toys etc…that can be used by children to climb up and touch blades while standing on furniture or another object.
3) Use a down rod (extension rod) with your purchase if possible because this will ensure safe ceiling fan operation around children. A down rod will cause the ceiling fan blades to be positioned at least seven feet above your child's head while standing on furniture or another object.
4) Use safety covers with any fans that are capable of being operated manually by your young child. This way, if there is any kind of accident, his/her hand won't come into contact with the fan blades thus avoiding possible injury.
5) Make sure you install your ceiling fan correctly and according to manufacturer's instructions. If it needs to be anchored in place make sure you do so properly using secure mounting hardware and technique as recommended by manufacturer recommendations.  This is important because improperly installed or supported fans can fall off ceilings causing injuries.
I hope these tips will help you make an informed purchasing decision before installing baby room ceiling fans in your home or child's bedroom!