If you are looking for an extravagant way to improve your home, then investing in a ceiling fan may be the perfect solution. Ceiling fans typically create a more comfortable environment by providing air circulation and cooling during warm months and heating during cold months. But if you want to step it up a notch, we recommend considering buying an expensive ceiling fan. There is no better feeling than walking into your bedroom or living room and seeing this beautiful piece of art work over head!
An expensive ceiling fan is a beautiful addition to any room. Buying such a luxury ceiling fan isn't something most people think about when considering improvements for their home. But I highly recommend giving it some thought since the benefits can last you for many years! These expensive ceiling fans are typically more durable, energy saving and dependable. If you purchase a cheaper model, then it will break down and need to be replaced more often. This results in spending more money than just purchasing an expensive ceiling fan that is built with quality materials and designed to last longer.
1. Big Ass Fans Haiku L Smart Ceiling Fan
If you love summer, let Big Ass Fans help you make it last all year long. The Haiku L Smart Ceiling Fan is the perfect accessory for your home. Beautifully designed with a chic style, this expensive fan will not just look good—it will feel great too. Let ease and efficiency take over your living space without sacrificing any of the quality that made Big Ass one of America's most trusted brands
Big Ass Fans Haiku is the ultimate ceiling fan with whisper-quiet performance, energy saving technology and sophisticated style. Introduce creature comforts like luxurious air conditioning to your space with this beautifully sculpted 52-inch ceiling fan that is quiet, cool and upscale. With remote included you'll never be too far away from controlling what happens up on high. Simply use your remote control to speed through four unique speeds (3 reverse), change the light output (from bright white LED) or turn it off completely.
Transform any room into a relaxing retreat by adding a peaceful whoosh sound effect without compromising on incredible air circulation thanks to patented EC motor's efficient design. Finished in soft caramel or rich black for an elegant look it also features a voice control with Amazon Alexa and Google Assistant integration. Whether you're wanting to switch your fan speed, change the lighting, or set a timer for sleep, you can get it done with a single tap on the mobile app. And when it comes to cooling down your room, don't worry about breaking a sweat. The integrated embedded LED provides twice as much light using half the energy of conventional incandescent bulbs. Enjoy 30+ years of maintenance-free light!
2. Quorum International Windmill 60″ Ceiling Fan
Set the sails and enjoy a cool breeze with this Quorum International 'Windmill' 60″ ceiling fan. Turn your bedroom, living room, or office into a tropical oasis and get the refreshing breezes and soft ocean air feeling right at home! With 15 blades on 6 poles of power, this beautiful windmill will harness any updraft of airflow to solidify your comfort in style. In addition to being lightweight with wide plastic ribbing that is mounted onto galvanized steel for durability in any vigorous climate condition, the sailboat inspired blade sweep also provides you with plenty of flexible maneuvers from both low-speed turbo mode when you want ultimate personal cooling control, all the way up to high speed where it'll literally feel like a hurricane.
With the Quorum Windmill Ceiling Fan, you get a great amount of airflow and electricity savings which will make your fan eco-friendlier. It's easy to install right out of the box with an included 6″ down rod and light kit adaptable system. This expensive ceiling fan is an indoor/outdoor, light kit adaptable ceiling fan that controls the breeze with its 15 blades that work together to generate up to 5982 cubic feet of air-per-minute. With and modern finishes available, this high-quality ceiling fan is bound to catch your eye and fill your room with just the right amount of cooling breeze that you crave on even the hottest days!
3. Quorum 69210-86 Contemporary Modern Ceiling Fan
Meet Quorum's most coveted fan – the Mykonos. This oiled bronze complements any decor and features a 92″ blade span, khaki blades, and an included wall control. If you're looking to conserve energy while maximizing your comfort with luxuriously airy quandaries, look no further than this chic, transitional design. Equipped with a reliable wall control unit that makes circulating air simple, you'll never want for anything again.
Controlling your comfort level has never been so simple. Unleash the power of up to six speeds with this elegant and efficient powerhouse that generates up to 6825 CFM (cubic feet per minute) airflow for an optimal sleeping environment. Thanks to Quorum's patented Braking system, you can set up this easy to install high quality item for immediate operation or have peace of mind knowing you've installed an innovative low-profile product from companies who value efficiency over style. Spin your worries away as you pour yourself a drink by lounge chairs on either side of this sleek masterpiece as it circulates sweet thoughts through your home.
4. Monte Carlo 3MAVR70AGP Maverick Ceiling Fan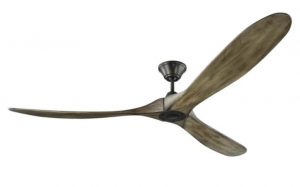 This exquisitely made ceiling fan joins the Monte Carlo Collection of premium home fixtures. With many style options, you can find just the right accent to create a desired look for your decor. The hand carved are designed specifically to maximize airflow for an exceptionally quiet operation, and it has energy efficiency ratings like no other.
With a Thirteen-degree blade pitch, this device has everything you are looking for without sacrificing anything that you need. All versions of this super energy-efficient ceiling fans feature beautiful hand-carved balsa wood blades! The matte black and dark walnut or aged pewter blades offer a sleek, transitional design that features three fan speeds and reverse with the included handheld remote. The Maverick Max fans can be used indoors or outdoors, making them perfect for year-round use no matter how harsh the weather conditions may be! They're even ENERGY STAR qualified so they will save you money on your electricity bill!
5. Matthews Acqua Ceiling Fan
The Matthews AQ-TB-MTL is the premier choice for your luxurious environment, offering fluid lines and quiet axial rotation in addition to circulating heat and air conditioning more efficiently than traditional paddle fans. Constructed of cast aluminum and heavy stamped steel, these rotational fan blades are available with either metal blades or solid wood blades. The heavy duty, damp rated cast aluminum and steel frame won't rust or buckle with the change of seasons. For additional beauty in your home, this LED ceiling fan features a sleek design that can be infinitely positioned within 180-degree arcs – making it the perfect fan for any room. An integrated LED light lets you sleep under a glowing moon at night to maintain crisp, fresh air from dusk till dawn.
The 360-degree rotation of the Acqua fan gives you ultimate control over airflow, allowing for a cooling breeze in any direction. Choose between metal blades with protective cages or solid wood blades that provide your room with ambient noise all day long to help combat those afternoon drowsies!
This high-end ceiling fan works seamlessly in indoor, yet stylish for outdoor use; has all the bells and whistles. Add this beautiful Matthews Aquatic ceiling fan to your room with traditional or modern décor, like metal or even mahogany furniture that will accentuate its elegance. This high-quality product is UL (Underwriters Laboratories) listed for damp locations so you can install it indoors on a deck or patio without worry of water damage if it does rain outside.
6. Monte Carlo Prairie Windmill Ceiling Fan
For luxury living, nothing beats Monte Carlo's beautifully styled, vintage inspired Prairie Outdoor ceiling fan with a brushed steel finish. It has a sleek and elegant design that would be perfect in any living space. The energy efficient 125 X 25 mm fully enclosed DC motor will last for years to come while delivering powerful airflow at 5003 CFM without adding excess noise to the room from its 14-inch exterior wind blades. You can use 6 Remote control to choose 6 speed options, 6 fan modes and 6 light settings at your fingertips.
The revolutionary, innovative LED feature delivers simplicity in one; not only do you get great ventilation, but also the light that will illuminate every corner of your home without needing an added bulb on! The brushed steel finish can go with just about anything giving this fan universal appeal for any Texas style home décor theme whether modern, traditional, French country or more conventional furniture goes best together. And because attention to detail is top notch even at design stage it has ETL approval so there are no worries about the product getting damaged due to electrical issues.
7. Esquire Industrial Indoor Ceiling Fan
The Esquire Industrial Indoor Ceiling Fan has a refined detail and natural elegance. Designed with versatility and elegance, the Esquire Industrial Indoor Ceiling Fan from Casa Vieja is perfect for any industrial or rustic-style setting. Its solid bronze finish is old world sophistication at its finest. Casa Vieja brilliantly took a striking 20th century design and updated it for the modern age, with energy-efficient LED lights. You will love the warm bronze finish complemented by frosted glass light kit and see-through cutout that frames the blades of this sleek fan.
This is one of the most expensive ceiling fans which is built to provide reliable, powerful cooling with enough style to blend effortlessly with any decor this fan is perfect for large spaces like living rooms, dining halls and commercial environments. This expensive ceiling fan requires atleast 9 feet high ceiling for installation and proper working. If you have a low ceiling, then you should check out these alternatives.
8. KICHLER Protruding Mount Ceiling fan
The 60″ szeplo Ceiling Fan in Satin Black is for people who find themselves rocking back and forth on the verge of insomnia. You don't want it to be light, you want the abyss of daytime-TV induced somnolence heavy with yawns; you need some shrouding darkness. This ceiling fan gives way to an experience that violently encapsulates your every need by reacting to how much darkness it needs or wants at any given time.
You want to elevate your bedroom into the nicest room in the house? Look no further than this expensive Ceiling Fan! The Ceiling Fan is designed to inspire the creativity of your home decor and bring out its hidden design potential. The KICHLER Protruding Mount Ceiling fan is ideal for those hot summer days. This ceiling fan is designed for the bedroom and has an avalanche of luxurious features to captivate you with its sleek design. Within this beautiful contraption are six satin black blades that effortlessly churn the air to produce cool breezes within your room.
This expensive ceiling fan comes equipped with a three-speed remote control that can be accessed from any location in your bedroom so you can turn off or on both lights and rotation without having to leave your bed. Whether you want all six blades running at high speed or just one blade so low it will almost not stir the air – whichever suits your preference.
9. Luminance Kathy Ceiling Fan with Lights
The perfect ceiling fan for someone looking to create a calm and simplistic decorating style with premium features, the Dorian Eco has 60-inch blades that ensure efficiency by circulating cool air produced from its EcoMotor. In 60-inch blade span it symbolizes the elevated flow of energy through this beautiful piece, recreating a sense that invokes deep peace and contentment for those who believe in its power. With five curved timber gray blades, plus a dimmable LED dome all encased in a matte shade will make sure you can melt into any room's atmosphere as if it were always there.
This expensive ceiling fan sets itself apart by using natural materials such as curved solid wood/timber gray blades made from renewable resources. Watch as this efficient fan whips up refreshing airflow, day and night. The Energy Star qualified DC ECOMotor increases efficiency for reliable operation and less power consumption than traditional AC motors. The reversible blade option provides increased air flow in both summertime's warmer months or winter's cooler ones— meeting everyone's comfort needs! Whether you prefer a more modern feel with our brushed steel blades or want to go traditional with Timber Gray, you'll find it all on the Dorian Eco CEILING FAN. You can't stand still on one style-switch anytime! Atmosphere is yours to be creative with the customizable light fixture that plugs directly into this electric switch PLUS saves energy too!
10. Minka-Aire Dream Star Ceiling Fan
One of the most beautiful ceiling fans on the list, this Minka Aire indoor ceiling fan with 8 easily replaceable blades is designed to add style and movement in any room. The blade dimensions measure 10 inches in width and 11 degrees pitch for air coverage across an entire 2,200 sq ft. The dream star includes renowned 18-Watt dimmable LED light module complete with etched opal glass which is perfect for reading or relaxing at night after long day at work or pleasure.
With the careful focus on style and aesthetics, as well as expert design and engineering, Minka Aire's ceiling fan speaks to those seeking most extravagant of experiences. Designed with a Graphite Steel finish and 8 graphite steel blades, this exquisite piece of work is both artistic and unique in its composition. This is one of the most expensive ceiling fans which includes forward and reverse function, a six-speed hand-held remote with on/Off plus full range light dimming. So, you can set the sleep mode where it will automatically cycle on and off during the evening hours – keeping your room cozy for when you're ready to go to bed!
11. Matthews Irene Hugger Ceiling Fan
This Irene Hugger Ceiling Fan comes in a three-joined walnut tone finish and features 3 cast aluminum blades for optimum air movement with 15° blade pitch. With an energy efficient, ultra-quiet 6 speed reversible DC motor that provides high torque at a low speed, this is the perfect ceiling fan for anyone looking to tackle summer heat. Designed specifically to have adjustable height with 7'10" or greater ceilings with ETL approval for damp locations. These stylish expensive fans are built of heavy duty stamped steel textured bronze finish with decora style wall control for all year-round convenience. The multi-function hand-held remote that comes with it can be mounted to your wall if needed.
Tips for Buying an Expensive Ceiling Fan
Finding a good room fan can be a difficult task. There are many brands and models out there that all claim to keep you cool in the hot weather. A quick look online will show you just how expensive fans can be, with some costing up to $1000 or more. If you want to get a good quality product, here are some tips for finding an expensive ceiling fan:
1. Make sure it has a warranty
The most important factor in choosing any electronic is the warranty that comes with it. Ceiling fans need constant maintenance because of their height and location in your house. If something goes wrong, they'll have to face spending even more money to get it fixed. This makes buying a good warranty even more important, as the cost will be well worth it if you end up having to use it.
2. Check out the brand's other products
If you're spending a lot of money on a fan, then chances are that you want one that is going to last for many years. This means shopping for brands with a solid reputation and history in making quality products. You can do this by checking out what kind of other products they offer and seeing how highly regarded they are among consumers. For example, Minka Aire has been around since 1993 and make fine ceiling fans meant for daily use that have received numerous awards from decorating publications such as Elle Decor.
3. See if the manufacturer provides any repairs
Another factor that you want to consider is what kind of warranty or after-sales service that the company offers with their products. Companies are increasingly offering repairs for their fans, which is another great way to save money in case something goes wrong with it. These repairs can be expensive, especially when you have to pay for labor costs too, so buying a fan from a manufacturer who can provide them helps save money in the long run.
4. Look at its metal components
When looking for an expensive ceiling fan, look out for one made out of metals like stainless steel and zinc alloy, as they are far more durable than regular steel. This means that the blades will not break down easily and will not need to be replaced anytime soon.
5. Motor Quality
Another thing that you want to look out for is how powerful the motor is. The size of the fan itself isn't always indicative, so pay attention to the wattage instead. Look for a company whose products are listed with high amp ratings and high-speed capabilities, as this will give you an idea about their overall quality.
While it might seem like finding an expensive ceiling fan can be difficult, if you follow these tips then you should have no problem at all.
Why Should You Choose an Expensive Ceiling Fan?
You've probably heard it said that you get what you pay for, right? Well; in the case of ceiling fans, this is certainly true. You may be tempted to buy a low-priced fan with the expectation of replacing it next year or two because of new technology at cheaper prices.
The problem with this thought process is that you will end up spending more money than if you had just purchased the better-quality ceiling fan- or even 2 or 3 high quality ceiling fans! Many people purchase a low-cost model only to become frustrated when it decides not to spin after 6 months. They finally give up and take down their beautiful home decoration and toss it in the trash (a sad reality). But what they'd realize is that it likely would have lasted much longer than that had they just spent the extra money on a more expensive ceiling fan.
1. A More Efficient Ceiling Fan
When your ceiling fan is on, it sucks up to 3,000 watts of electricity per hour. When you are looking for a more efficient way to cool your home without air conditioning, consider spending more money on an Energy Star ceiling fan that can save you hundreds on energy costs each year.
2. A Brighter Light Kit
A regular light kit allows you to turn your ceiling fan into a single-purpose lighting fixture instead of an energy-efficient cooling system. CFLs (compact fluorescent lights) are one option, but they burn out faster than standard incandescent bulbs and may cost more upfront with long term savings in mind. An LED light kit, which uses less wattage per hour, will offer years of savings on energy costs.
3. A Quieter Ceiling Fan
A less expensive ceiling fan may make a noticeable hum or buzz, which can be enough to keep you up at night. Noise is also an issue during the winter months when your ceiling fan should only be making occasional turns to circulate warm air; an irritating noise each time it turns can be disruptive. Invest in a more expensive ceiling fan with better bearings that operate with little resistance and won't run as long, but are much quieter.
Is Buying an Expensive Ceiling Fan Worth it?
An expensive ceiling fan is worth it if you are looking for the best quality. While some people might be skeptical about spending hundreds of dollars on a fan, it's important to remember that this type of fan has many benefits over cheaper fans. Energy Star ceiling fans, LED light kits and quiet operation are three items that come with a higher price tag than cheaper versions. However, these three features can save you money long term by cutting down on your energy costs and keeping you comfortable in your home. That extra investment now can certainly be worth it over time.
Where Should You Buy an Expensive Ceiling Fan?
Do you need a new ceiling fan? If so, where should you buy it? This is an important consideration because there are many places to purchase ceiling fans. The right answer depends on your budget, the features that matter most to you, and how often you plan to use the fan. Here are some of the best options for buying an expensive ceiling fan:
Buy online from one of the big stores like Amazon or Lowe's. The advantage of buying online is that you can easily compare prices. Or find a local store that sells lots of different brands and models in person.