Honeywell Xerxes Man Cave Ceiling Fan
1 size : 62″
Maximum Speed : 4869 CFM
Power : 18 Watts

Big Ass Fans Haiku Smart Ceiling Fan
1 size : 52″
Maximum Speed : 5604 CFM
Power : 20 Watts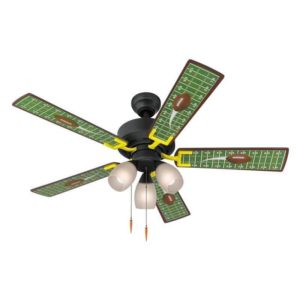 Honeywell Football Ceiling Fan
1 size : 48″
Maximum Speed : 4969 CFM
Power : 62 Watts
You can express your style and spirit through the design of your man cave. It acts like a mirror to your personality, preferences, and attitude. The man cave is like a safe space where you can relax after a long day at work or just hang in with your buddies. You can do so much with the aesthetics of the man cave to make the place your 'own' where you can enjoy your hobbies guilt-free. A minibar, pool table, and a TV screen are among the experiments that you can do with your man cave. 
Ceiling fans are an essential feature that can make a big difference in the entire feel of the room. There are tons of things you can disseminate through your selection of ceiling fans. You'll find a diverse range of ceiling fans to pick from but choosing the one that fits the feel of your man cave can be a tricky job. Here are the best man cave ceiling fans you can pick from to make your man cave stand out.
Top 6 Man Cave Ceiling Fan Ideas
Here is my recommended list of the top Unique, Sports and High Tech Modern man cave ceiling fans.
1. Unique Man Cave Ceiling Fans
Unique ceiling fans are distinctive and extraordinary. You can add a very elegant look to your man cave with the installation of unique ceiling fans. They are available in all light bulb variety including traditional incandescent, halogen, and LED. You can mount it with or without a light kit and ceiling fans with lights are a spectacular addition to your man cave's aesthetics. There is an amazing variety of colors and designs that make your selection process easier.
Minka Aire LightWave Ceiling Fan
This centerpiece is a presentation of the light wave collection by Minka-Aire. It is a very sleek design that not only improves the ventilation in the room but also gives your man cave a classy look.
Features
Energy-efficient.
Comes with remote control and bulbs.
52-inches blades.
Wi-Fi is compatible.
Customizable downrods.
Attractive design.
Driftwood finish.
Voice-activation.
Why do we like it?
It is very incredibly easy to install and comes with remote control. The remote control has three-speed levels which means you can set the lighting and cooling as per your comfort. The design of this ceiling fan is very distinct and contemporary. The 52-inch blade size allows the air to percolate effortlessly throughout the room and the incorporation of dimmable LED lights amplifies the efficiency of this product. You don't have to worry about replacing the bulbs now and then. 
Moreover, it is Wi-Fi compatible which means that this device can be connected to the Wi-Fi buy a supplementary purchase of BD-1000. The setup is very easy that allows you to control your fan through your smartphone. Several additional integrations are also available. You can customize the look of your ceiling fan by exploring the different downrod options: 60, 48, 36, 24, 12 & 3.5″ configurations.
Who should buy this?
If you are looking for a design that will stand out and give your man cave a modern look then this product is the best option for you. It has a very design with some amazing integrations that I will leave your guests in awe. The lighting is very soft and it is extremely easy to use. It gives your space a very homey feel and you get unprecedented comfort as well.
Honeywell Xerxes Ceiling Fan with Remote Control
It is your go-to ceiling fan that provides an excellent look and is perfect for larger rooms. The package includes LED lights and remote control. Moreover, its strenuous hanging power allows the air to be equally distributed throughout the room. It's credible and attractive.
Features 
Large size, perfect for big rooms.
Comes with a 3-speed levels remote control.
Tri-mount compatible.
Effectively quiet.
Reversible blades.
3 mounting options.
Limited lifetime warranty.
Why do we like it?
It has a bold and contemporary look that is coupled with a large size which makes it the perfect choice for bigger rooms. The blades have different finishes on each side and the blade span is 62″. This multi-position fan has a wonderful hanging capacity, you can hang it downward or on an angled ceiling. The LED lights are dimmable and they can also light up the room. The remote control is easy to use and allows you to set the lighting/cooling according to your taste. Moreover, the downrod is 4×0.75 inches that come with a 54″ wire.
Who should buy this?
If you are looking to get a ceiling fan for a big man cave and you do not want to compromise on the look then this is the perfect product for you. It has a remarkable look that also accommodates flawless ventilation in the room. As it comes with a warranty, you can completely rely on this product. Moreover, it has a convenient design that allows you to customize your place as much as you want.
2. Modern High Tech Man Cave Ceiling Fans

Modern ceiling fans are a blend of technical innovation and splendid looks. It includes the ceiling fans that can be powered on and controlled automatically by Google Home, Alexa, etc. There is a wide variety of shapes, designs, finishes, and colors available in the market. They provide effective cooling and are available in extraordinary bodies. From stainless steel to wood blades, you can choose from a variety of finishes.
Big Ass Fans Haiku L Smart Ceiling Fan
This energy-efficient fan is eco-friendly and elegant. It works wonderfully to cool off your man cave. The new design and structure make cooling conveniently flawless. It comes with a phenomenal remote control and LED lights. Overall, it's an incredible choice that provides your man cave a classy look and terrific ventilation.
Features 
Works with voice control.
Unique mobile app adjustment.
Comes with LED lights and remote control.
Conveniently quiet.
Energy-efficient.
Eco-friendly.
Refined design.
Wifi-compatible.
Why do we like it?
It is factory-tested and produces no annoying sounds; it won't squabble or squeak. This 52-inch ceiling fan comes with a variety of finishes and a sophisticated design. The aviation-type structure provides great efficiency It saves up to 30% energy but delivers superb airflow in the room. This ceiling fan drops the temperature by 6°C and it's fit for all types of spaces. The LED lights have a life expectancy of 50, 000 hours and 16 brightness levels. There is a specialized mobile app that helps you to manage the light, sleep timer, and then whoosh. You can hook it up to Google Assistant or Alexa and manage the coolness of the room through voice controls. By the way, it is an award-winning design that provides a modern look to your man cave.
Who should buy this?
If you are looking for a technically sound and aesthetically pleasing ceiling fan for your man cave this is the one for you. It has some amazing technical features and the efficiency of this product is unquestionable. It provides phenomenal cooling and improver the airflow in the room. Furthermore, it is eco-friendly with a sustainability certificate and energy-efficient as well. As compared to the traditional fans, this product uses 30% lesser energy, hence saving you a lot of costs.
Minka Aire F753-BNW Ceiling Fan with Remote Control
This versatile ceiling fan is compatible with both indoor and outdoor usage. It is an impressive design that comes with remote control and free 3 silver blades. It is Wi-Fi compatible and provides incredible ventilation in the room.
Features
54" brushed nickel finish blades.
Comes with a handheld remote control.
Wi-Fi is compatible.
Discretionary downrods.
Voice activation is available.
3-speed reversible motor.
Why do we like it?
It is a versatile design that can be utilized in the outdoors as well as the outdoors. It comes with three-speed levels remote control that gives you complete control over the coolness of the room. This product is compatible with Wi-Fi, powered by bond technology. Once you get the BD-1000, you will easily download the bond app on your smartphone and connect to the Wi-Fi instantly. There are additional drivers such as Hubitat, SmartThings, and ELAN which help you to fully integrate the ceiling fan.
Who should buy it?
If you are looking for a fan that can adapt to your versatile ideas of the men came then this is the accurate product for you. With the multi-use remote control and additional integrations, this is an advanced and handsome pick for your man cave. The voice activation and different levels of coolness give you the liberty to control the setting of your room. Moreover, it is an excellent ceiling fan that works effectively to boost the airflow in the room. The contemporary design of this fan completely changes the feel and looks great in any theme.
3. Sports Man Cave Ceiling Fans

These are the ceiling fans that are customized for sports enthusiasts. It includes different themes such as soccer, football, the World Cup, etc.
Honeywell Touchdown Football Ceiling Fan with Lights
It is an impeccable design for football lovers with the good old traditional such as well. You can install it in medium-sized rooms to amplify calming lights and decent ventilation. It is reliable and comes with a limited lifetime guarantee.
Features
Football-themed blades.
Amber shades.
Traditional pull chains.
Reversible motor.
Limited lifetime guarantee.
Why do we like it?
It is a very fresh design that is apt for football lovers. The 48 inches blades are ideal for medium-sized rooms and it has traditional full change included which makes the on and off adjustment very simple. However, it is also compatible with remote control. The four-speed reversible motor makes it effective for warming up the room as well as cooling it. There are three different mounting options available as well so that you can execute the exact look that you have in mind. It comes with a limited lifetime guarantee and provides dependability for years.
Who should buy it?
Anyone who has a keen interest in football and wants to customize their man cave according to that interest will find really like this ceiling fan. It is both effective and visually appealing. Moreover, it is durable and provides a sporty look to your man cave.
Designers Ceiling Fan (Soccer Football Baseball Sports)
It is a handcrafted and football-themed ceiling fan that is just the choice for your man cave if you are a sports enthusiast. Its design is very appealing and comprehensive. The design is terrific for promising ventilation and it gives the man cave a look that will leave the guests imploring.
Features
Sporty look.
Wooden, metallic finish.
Forward and reverse function.
Comes with a light kit.
15-year warranty.
Why do we like it?
It has an edgy look functions incredibly to keep the ventilation retained in your man cave. There are three-speed levels which means you can use them throughout the year. The blades are reversible and it has a white finish on each side which looks very delightful. It has a Schoolhouse style light and has 60W a candelabra bulb. Its functioning is conveniently quiet which means you will not be hearing any squeaking or excessive noise.
Who should buy it?
If you are looking for a unique style of sporty ceiling fan for your man cave then this is a perfect fit for you. It provides the room with smooth lighting and good airflow. This product is recommended for those who want to customize their man cave and have a reasonable ceiling fan too.
Frequently Asked Questions
1. Should Your Man Cave Have a Ceiling Fan?
You can express a lot through your selection of the ceiling fan in the design of your man cave. It is important to keep a healthy airflow and rotation in any room. Therefore, your man cave needs it and you can also amplify your style through the selection of your ceiling fan.
2. Is a 5 blade fan better than a 3 blade fan?
Generally, the more the blades, the quieter the fan works and circulates lesser air. Five blades affect the function and only add to create a better look as compared to the three blades fan. However, it completely depends upon personal choice and style.
3. Should I get a ceiling fan with lights?
It is a matter of personal choice. If you have a man cave that can benefit from some good lighting then you should buy a ceiling fan with lights. However, if you have space with ample, natural lighting then buying a ceiling fan can be bypassed.
4. How to measure ceiling fan width?
Measure the length from the tip of the first blade to the tip of the second blade. Simply, it's from tip to tip which is called the diameter of the ceiling fan. Here are step by step instructions.
Conclusion:
A man cave is a personal space that can define your hobbies and preferences. Moreover, the ventilation of a man cave is also essential. You can pick the ceiling fan that fits the theme and also provides convenience.